Hi J,
Interesting reading, but i shall have to look into the SEED antenna.
To feed the packing-crate antenna I chose to use an unbalanced feed, with the braid connected to the oposite side to the tuning capacitor. The coaxial centre I connected, initially using a crocodile clip lead, to a point along the loop until I got a 50Ω match, as measured using a VSWR bridge and confirmed using a network analyser. I was very surprised just how resistive it was, I would have expected it to be a lot more reactive.
If you look at my homepages you will find several capacitor projects, and a couple of them are quoted below on this forum. One technique I tried was a nylon nut and bolt squashing two bits of 100mm x 50mm copper-clad board, sandwiching a plastic foam sponge. That worked, but ony for a short time. After an hour or so the board bends, releasing pressure and the capacitance varies. I also used a bit of coaxial cable and pulled the inner/dilectric out of the sjield to get the correct capacitance. That worked a treat, but it was not very durable. Ok to clip down to make a fixed capacitor, but not for variable caps.
If I were to think about tubular capacitors today I would use two tubes, a 3D printer and a roll of nylon filament.
But for this loop I am building now I will use two bits of copper-clad board, pressed together, copper-sides out. Not exactly a butterfly capacitor as Frank suggested in his articles, but it should do the job. I do not intend to use much power.
No, never tried caramic ladders. But it would be interesting if you have any ideas or experience?
Anyway, gotta go now. A few more messages and e-mail to answer. Also must put in a complaint about the old out-of-date video films I have on my old YouTube channel. Unavble to recover the account, so I think the best way is to report it as unsuitable content - copied from my own channel (created a week ago

). Thjat should get rid of the old films.
Have a nice evening and BR from Harry - SM0VPO
_________________
(no text given
)
Thanks Harry. I did see that looking through the links. That was encouraging. I've been scouring my soft library for articles on loops and found a few. I also found Dörenburg's site which was very informative.
There was an article published in the 80s about a loop antenna mounted horizontally close to the ground. It was called a SEED antenna. Apparently I did not keep that in the library as it had the common problem of shunt feed and very high voltage. I've never been inclined to experiment with gamma matching. Too tedious looking for that sweet spot. I was very skeptical at the time it would produce anything but local ground wave.
What method do you use to feed your packing crate loop?
I've long had the thought of coming up with a way to create a variable capacitor capable of high voltage made from common cylindrical parts. The biggest problem has been finding a suitable insulator of appropriate diameter. So far I've found 3/8" polyethylene tubing in conjunction with ¼" pipe, and 13/32" brass tube from the hobby stores may fit together. Initial measurement using vinyl tubing produced about 23pF for 1" penetration, measuring by using a parallel capacitor to get out of the mud on the meter.
I came across some deep drawn canisters containing deodorant in the personal care section at the local supermarket. They were 2.28" and 2.6" OD respectively. Now to find some poly tubing to work with it.... I investigated once the possibility of Teflon tubing and discarded that idea. Too much $$$$$$$$$$$$$$$$$$! But polypropylene or polyethylene seem to have reasonable dielectric withstanding properties, and reasonable pricing. In the process of thinking about the insulation problem it occurred to me that it would not be too hard to turn out a jar plug on the lathe made from a block of polypropylene or HDPE I have on the shelf. Leakage of oil has been a problem with dummy loads I've made in the past using paint cans or glass jars. The oil always manages to weep past the terminals. This particular dummy lost most of its oil laying on its side for 6 months. I used automotive RTV gasket goop which helped.
On a different topic, have you tried making a ceramic ladder filter? Some hams have used varactors to adjust the bandwidth of crystals. So I was curious just how ceramic resonators might perform. K2BLA in an article published in 1985 found a 4MHz resonator could be shifted 7%. This would be quite useful as a baseband filter for a spectrum display.
My condolence on the villa loss. I've had my share of setbacks and unjust rulings. I haven't been on HF for ~25 years because of lack of real estate for an antenna for one reason or another. The latest QTH while barely large enough for a 40m dipole is a huge improvement over previous locations.
God tur på Spania!
J
Hi Jess,
PS - Here  is a drawing by IK1WVQ showing some of the contacts he made using the 20m version of this antenna over a 24-hour period.
<https://www.nonstopsystems.com/radio/img-ant/80m-40m-spirals-mauro-4.jpg>
BR Harry
_________________
(no text given
)
Hi Jess,
Thank you for sharing your pictures and the information about your hobby. It mad for some very interesting reading.

After I lost the villa, and with no grden, I have to get something running, and fairly soon. Now that summer is coming it is time to make plans.

In the house I will reseurect the Nefab packing crate antenna, and that is a true magnetic loop antenna. A single turn of thick metal around a bit of plywood, and a dartboard in the middle for the benefit of the neighbours.

My 80m frame antenna is really yhe same antenna, but with more than one loop. This means the terminal impedance is high and so the voltage across the capacitor is very high. but a copper pipe, 3m long, bent into a circle, can be made to resonate at 14MHz. From my experiments I understand that physical height is not an important criterion. Horisontal radiation power is not that which arrives at the destination, but an upward angle. This means that a 1/2-wave dipole and a magnetic-loop can behave almost exactly the same.

I am lucky that my apartment is on the 4th (top) floor, but unfortunate it is just a few metres from a 6-storey apartment block. Those balconies look straight down on me, and I got complaints with the 5.4-metres pole stuck out of the window. The woman below me also complained of the metal clanking on the floor when I was assembling the 5-section pole.

In the summer I will go into the country with the 5.4-metre vertical pole and a few radials. I have an aluminium beach umbrella mount I can screw into the ground, and a 100-turn coil. I just need to print out some plastic formers to insulate the antenna from the mount, and support the coil. I shall be running 5-Watts SSB, but I do have a 300-Watt HB linear amp I can use.

In three weeks I shall be running 50-Watts SSB on 3.5, 7, 14, 18 and 28MHz from Southern Spain. I will post projected times here, but use Twitter for daily operating. In November I had a couple of QSOs back to Sweden from Andalucia. I also got in to the Netherlands and the UK on a regular basis. But I was able to cover the the Med and had a couple of contacts in Cyprus.

Antenna is centre-fed 1/2-waves for 3.5, 7, 10, 14, 18, 21 and 28Mhz. No ATU. TX only 50 Watts.

Anyway, good luck with your projects, I hope you have a lot of fun and perhaps we can hook up after Mid April?

As regards the varactor diodes, I just love 'em, at least finding other components that can replace them.

Have a nice evening and very best regards from Harry
SM0VPO - Märsta, Sweden
EA/SM0VPO - Nerja, Spain
_________________
(no text given
)
Thanks for the reply. First thing I did after reading your post was scour Woodrow Smith's old antenna manual. He doesn't say much about loops except what they are commonly used for. Then I went through the old ARRL Antenna and Handbooks. They don't say much more. Most everyone talks about near field tests, but not much else. Really, practically anything works for a local radiator. K7CVB once told me he worked stations loading up a roll of solder unspooled over the living room support beam. But he never worked DX stations that way. Same experience I had with an adjustable Slinky strung between a tree and carport at 7m height.
My days of 80' crank-up tower and inverted V are gone. I built a conduit PVC tower in 2010 that was a start, but I didn't get the remote tuner built to load up the folded dipole. Dessverre!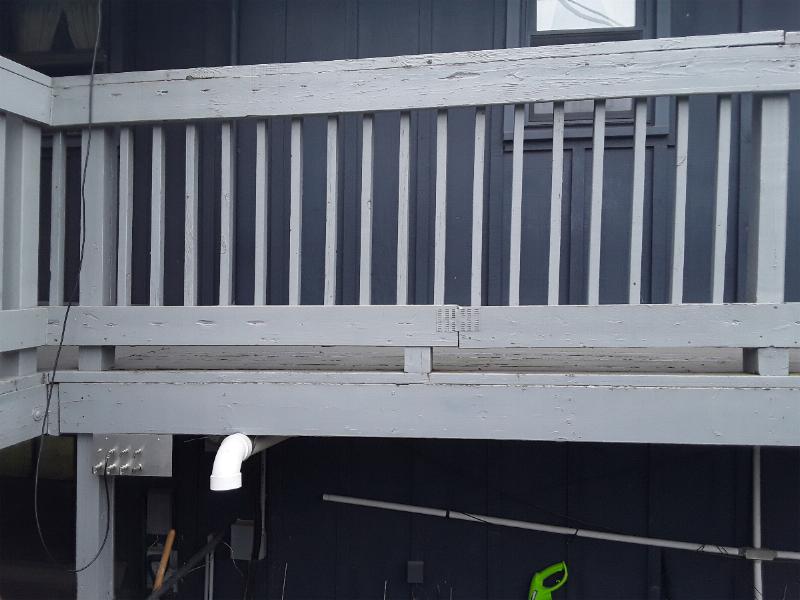 In the new QTH photo corner is the coax connector panel to the shack. Behind is the metal conduit with all the coax and control cables. Directly above I need to build a base plate for the tower to rest on. This is about 3m above the ground, and necessary for the tower to clear the ramp when tilted over. I was contemplating winding the 80m spiral loop right on the face of the deck railing (extends E-W), close to the connector panel. If the radiation angle isn't too high as you say I would like to try this. In 40 years I have yet to make contact with Scandinavian stations!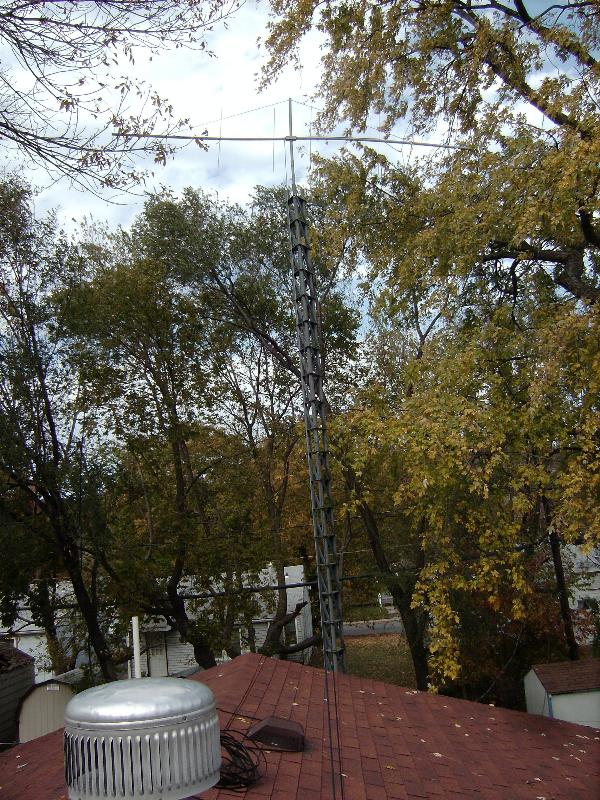 This is the PVC conduit tower I built at the old QTH. At 35' (~11m) it still wasn't high enough to get into the club repeater 100km distant (70W + a 8el quagi, or 10el yagi, homebrew, 146MHz). The location was at the bottom of a flood plain.
You have an interesting site, with many cool ideas. Some of them I save to my file system. Others I hope to create an updated form. I especially appreciate your work on finding suitable varactor diodes. They're getting harder to find on the surplus/experimenter market.
73
J
Hello Jess,
I have heard a lot of good reports from the antenna, both in the original form for 1.8MHz, 3.5MHz and 7MHz (with mods). Many people have given me reports of DX contacts, both on low bands at night and high bands, from restricted locations, such as balconies. If you google it you will find loads of reviews, from impedance and efficiency to endless calculations.

I have also heard a lot about the modified antenna by Frank, although I have never tried this antenna above 7MHz. Interesting that you are to give it a go, as that is exactly what I am doing at the moment.My old balcony antenna is in the cupboard and I cannot poke it out of the window, as I originally did 25 years ago. My neighbours complain, even if I put a Swedish flag on it :-(

Only today I bought the 15mm plastic tubes to complete Franks modification to my design, and I have thought about using not one, but several loops on the one antenna for multiple bands.

Magnetic loop antennas have always been renowned for performing well and comparable to the dipole, even when mounted failrly close to the ground.

BR Harry
_________________
(no text given
)
Harry--

New here this "morning". How is this loop working out for you during this dismal solar cycle?  Any contacts out farther than a few hundred kilometers?

I'm still working on the antenna farm at this "new" QTH. I've been looking at ideas for a quick 80M antenna since that is the only HF band exhibiting activity lately.

FYI, I am listed at QRZ.com

KB7BB
Jess
Hello Ivan,
Yes, the ML looks very impressive and I wonder just how it will perform when compared to a conventional dipole. There are several good reviews on it, and I have also found the manual in English. My packing-crate lid, 1-turn loop, magnetic loop has given some good results, but it's size was much larger. It looks really "out of place" on my little balcony. A neighbour has also asked questions if it is wise to have a dartboard so close to the balcony edge, four floors up.

I was thinking about Frank's variation on my frame antenna, but I had not thought about the ML antenna. If I want to use if for 14 MHz to 28 MHz then perhaps I could make a larger version using a single loop of copper tube, perhaps 1m Diameter. I still have that feeling that antennas are much more efficient as the size is increased. It would be good to make two and compare them using the same radio and conditions. I would really like to have a small one for portable use, and the OK2ER would fit perfctly on the roof of my car.

It looks reallt sturdy, and I can use my R/C driver to tune it remotely, as a band-spread for a larger fixed cap.

Once more Ivan, thank you very much for the link. I really appreciate you taking the time and trouble.

There have been a lot of links posted recently, so I wonder if there is a call for a "Links" forum page? There everyone can post links to other peoples projects that are of particular note.

Very best regards Ivan, and welcome back :-)
Harry - SM0VPO
_________________
(no text given
)
Hi all,
Olda OK2ER has done much work on Magnetic Loop Antennas
http://www.btv.cz/en/mla-m
It may be some more material for Harry's brain. Unfortunately, after Olda got a cardiopacemaker, he was forced to abandon this field of ham research. The risk of strong EMF exposure would be too big.

BR from Ivan



Posts

: 241


Join date

: 2012-11-25


Location

: Praha, Czechia



Hi all,
I was searching the web for my articles to see which articles and by whom they were re-posted. I found this lovely little "gem" where my loop/frame antenna was taken and the author took the baton and ran with it, all the way to the 20m band. He also took it up to 75 Watts

  Frank also used a PCB construction "Butterfly" type variable tuning capacitor to tune the antenna.
Here is the link:
https://www.nonstopsystems.com/radio/frank_radio_antenna_SM0VPO.htm
Based on my antenna:
http://213.114.137.49/antennas/frameant.htm
If you want to think bout high-voltage capacitors then here are two links on my homepages:
http://213.114.137.49/use/tuning_caps.htm
http://213.114.137.49/use/tuning_caps2.htm
And large PCB coils:
http://213.114.137.49/info/pcb-coil.htm
Perhaps this can be used to make a VHF/UHF antenna? Pye Telecom once made a hand-portable "pocketphone" for UHF using an antenna etched on a board, with a tuning capacitor.
Isn't it wonderful when you see your own designs proven, then improved. I feel that Frank's site is well worth a visit if you are thinking about compact antennas.
As you may be well aware, I am very restricted when it comes to antennas, having only a small, glassed-in balcony. I have been using my magnetic loop antenna, but the improvements made by Frank look very interesting, and gave me much "food for thought".
Hats off to Frank

Very best regards from Harry - SM0VPO
_________________
(no text given
)


Similar topics
---
Permissions in this forum:
You
can
reply to topics in this forum