Hello Philippe,
I am so glad that you got it working. I will look forward to hearing how the antenna performs for you.
To be honest, I was very surprised at the performance of the antenna myself, especially when comparing it with a vertical GP cosited with it.

I hope that you get similar results.
Very best regards from Harry - SM0VPO

_________________
They say that money cannot buy you happiness. But if you want to prove this by experiment, then I volunteer to be the test-rabbit :-)

Admin




Posts

: 732


Join date

: 2012-11-24


Age

: 67


Location

: Märsta, Sweden



Hello Harry,

I shortened the feed loop and now I can get 1:1 on the band. The small loop is now spaced by 4 cm from the other wire, en d from the boom. Bandwith is narrow, but that is normal for this kind of construction. I have now to test it on the field!!!!

many thanks Harry, Have a nice WE Harry and all.....

--
Philippe - F4GRT
Hello Philippe,
The holes in the support booms were exactly 6cm apart from centre to centre. The distance between the turs was within a few mm of 4cm, but remember also that the wires are a couple of mm in diameter, with insulation.

The feed loop was supported by 5th holes, also 6mm spacing on the boom, so that the feed loop is approximately 4cm from the tuned winding. The hypotenuse was parallel to the boom, and the (approx) 4cm was dictated by the block connector to which I terminated the loop. When I measured the loop the two boom members may not have been exactly 90° apart, which can have cause a few mm difference.

The dimensions need not be exact, but if you follow the 6cm holes measurements, then the lengths and spacings will all be correct and you will get a 1:1 VSWR at resonance. I have built a couple of these antennas and they all worked perfectly, even though there were minor differences in the final measurements.

Unfortunately I don't have the antenna any more so I cannot measure the exact lengths, but you should not have any problems. One of the problems with moving to a smaller house :-(

The tuning capacitor did begin to spark a little if I put the power too high, but then the two coper-clad boards sandwiched in a dry plastic dish-washing sponge should allow you to use more than 60 Watts.

I hope that this helps you.

BR Harry - SM0VPO

_________________
They say that money cannot buy you happiness. But if you want to prove this by experiment, then I volunteer to be the test-rabbit :-)

Admin




Posts

: 732


Join date

: 2012-11-24


Age

: 67


Location

: Märsta, Sweden



Hello Harry, Hello all,
This afternoon, I built the "80m" frame antenna.The construction was easy, I had all the necessary parts "from junk box". First measurements this evening are very encouraging. Before going further with the tuning, I would like you clarify some points, because, in my opinion, your drawing is a little bit ambiguous. 
You say that the wires are spaced 4 cm apart, and that the holes in the corners are spaced 6 cm apart, this is not possible. If the wire spacing is 4 cm, the holes are spaced 5.6 cm apart.
Another point to clear up is the exact size of the feed loop. Can you specify the size of this loop? You say 80 cm for both sides of the loop. In this case, the hypothesus is 113cm and so the big side is just on the diagonal.
I attached a quick drawing on DraftSight starting from a side of 120 cm, spacing the threads of 4 cm, giving a square of 80 cm in the center.
Harry, is this reflection right, or am I missing something?
Kind regards,
--
Philippe - F4GRT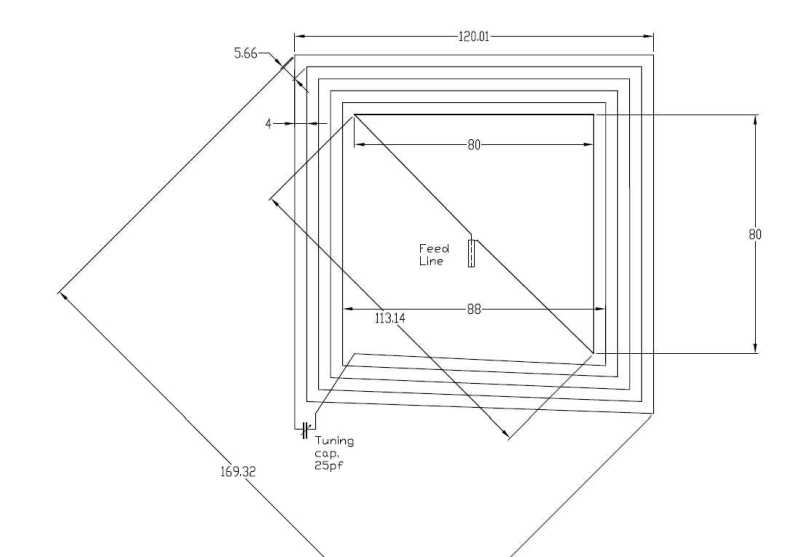 Hello Harry, Hello all,

This afternoon, I built the "80m" frame antenna.The construction was easy, I had all the necessary parts "from junk box". First measurements this evening are very encouraging. Before going further with the tuning, I would like you clarify some points, because, in my opinion, your drawing is a little bit ambiguous. 

You say that the wires are spaced 4 cm apart, and that the holes in the corners are spaced 6 cm apart, this is not possible. If the wire spacing is 4 cm, the holes are spaced 5.6 cm apart.

Another point to clear up is the exact size of the feed loop. Can you specify the size of this loop? You say 80 cm for both sides of the loop. In this case, the hypothesus is 113cm and so the big side is just on the diagonal.
I attached a quick drawing on DraftSight starting from a side of 120 cm, spacing the threads of 4 cm, giving a square of 80 cm in the center.
Harry, is this reflection right, or am I missing something?

Kind regards,

--
Philippe - F4GRT

---
Permissions in this forum:
You
can
reply to topics in this forum