Hi Joy,
It should be ok as it is.
The filter time-constant is to be long enough to prevent the lower modulating frequencies from being seen as a frequency error.

It matters not what the reference frequency is, but it does matter what divide rate you use. If your lowest modulating frequency is 20Hz, and you select the filter to have a knee at about 10Hz, 100mS. All is well, but it will take a long tie for the loop to lock.

If your total divide rate is in the region of 100 then your loop filter time constant can be 1mS. In this event then the loop filter can be a lot longer since it will still achieve lock very fast.

BR Harry

_________________
They say that money cannot buy you happiness. But if you want to prove this by experiment, then I volunteer to be the test-rabbit :-)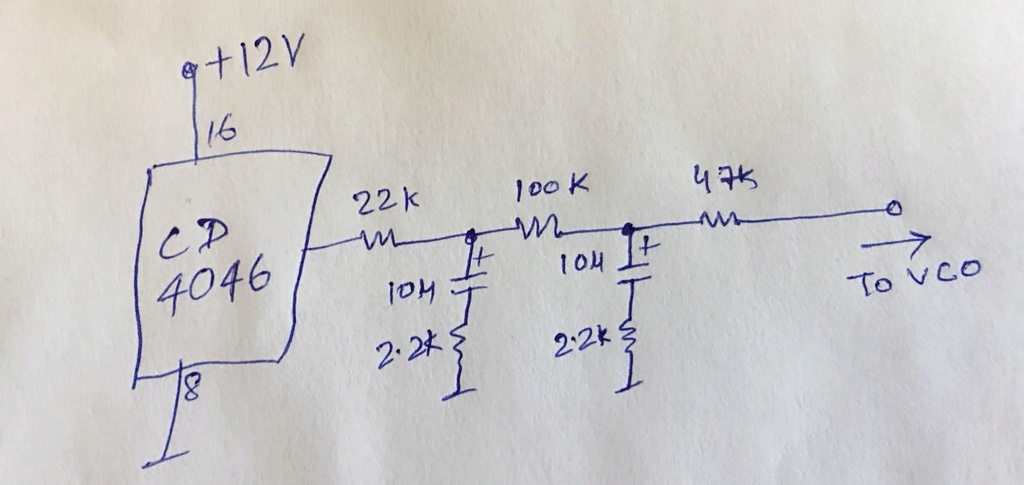 One last question Harry. This is the loop filter from your FMTX kit. The time constant is 220 milliseconds (22k and 10uf). Does the reference frequency matter? This loop filter worked fine with reference frequencies of 300 KHz to 800 KHz and audio sounded good when I was testing it in 2015. Can the same values for loop filter be used if the reference frequency is 25 KHz or something else? Does it make any difference in the audio quality?
Thanks
Joy
Thank you, praise indeed.
The only problem with experience is that you have to be old to get it

But the reason I am still working at (almost) 67 is that I have a lifetime of experience to pass on to the newer engineers and technicians we have a work.
BR Harry - SM0VPO

_________________
They say that money cannot buy you happiness. But if you want to prove this by experiment, then I volunteer to be the test-rabbit :-)

You are one of my gurus. Most of what I know about RF circuits I've learned from you.
Hi Joy,
Then I am really pleased that I was of some assistance.
This 67 year-old brain has a few defects, but it seems that I can remember distant facts and theories quite well, and even apply them. However, remembering why I went into a room is sometimes a challenge ;-)

Very best regards from Harry - SM0VPO
Last edited by Admin on Thu May 31, 2018 8:04 pm; edited 1 time in total (Reason for editing : tipping errorz)

_________________
They say that money cannot buy you happiness. But if you want to prove this by experiment, then I volunteer to be the test-rabbit :-)

Yes Harry you explained it well, and thank you for taking out the time. Actually I have the pdf copy of the kit. I designed a PLL FM transmitter for 96 MHz and used your values for the loop filter and it worked great with 750 KHz ref frequency. Google WBFM kit for your circuit it shows up at the top. Attaching my circuit using your loop filter values.
http://213.114.131.21/conv/syn-info.htm#loop
Hi again Joy,
Just spent 20 minutes composing a reply to you, then accidentally erased everything. Anyway, the above link should explain everything you need to know about the loop filter design.
You are using 102MHz, so I guess you are making an FM transmitter. You therefore need to make your loop filter to have a rolloff frequency at about 15Hz (lower than the lowest modulating frequency). You also have a ÷256 prescaler, and frequency dividers are also filters. This means your loop filter time-constant should cut in at 15Hz x 256 = 3840Hz = 0.26mS (can be a little longer).
There is a compromise:
 - CR = long enough so that it does not see modulation as an error
 - CR = short enough to allow a practical loop lock time
In your case, 500mS lock time is not a problem, assuming you are building a broadcast station. If you wanted to change rapidly between TX and RX then it would be a problem.
Another point, a synthesiser is an amplifier and two integrators in a closed loop. That is the definition of a multivibrator. It can occur that your loop is constantly "hunting", that is overshooting the correct frequency and in fact oscillating. The cure for that is putting a damping resistor in series with the capacitor in your first CR time-constant.
Another problem is "synthesiser whine". That is hearing the reference frequency on the modulation. If your reference frequency is, say 300kHz then you can add an extra CR circuit (or 2) to hard filter (without damping) with a cut-in frequency of about 200kHz or more. With a high reference frequency this is not normally a problem.
You may want to take a look at a practical example. See
http://213.114.131.21/conv/4040_divider_02.htm
I once designed a WBFM synthesiser circuit for a kit company, but they never paid me. Perhaps I can dig out the circuits and PCB, then post them here for you? Leave that with me - I will search, but no promises.
Have I explained this in an understandable way? Have I answered your question?
BR Harry - (EA/)SM0VPO
Last edited by Admin on Wed May 30, 2018 10:23 pm; edited 1 time in total (Reason for editing : 67-year old brain cannot tell the difference between singulars and a plural - brain failure - correctin !!)

_________________
They say that money cannot buy you happiness. But if you want to prove this by experiment, then I volunteer to be the test-rabbit :-)


_________________
They say that money cannot buy you happiness. But if you want to prove this by experiment, then I volunteer to be the test-rabbit :-)

I can't post the schematic here. What's your email Harry?

With a reference frequency of 400 KHz, what should the values of R1-R4, C1 and C2 be?

Thanks in advance for your reply Harry.

Joy


Similar topics
---
Permissions in this forum:
You
can
reply to topics in this forum