Hi Zsolt,
Not really a transformer. It is just a large coil of wire. The bottom of the coil is connected to the bottom of the whip antenna.

Since the antenna is telescopic and up to 5.2 metres long, it will work as a 1/4-wave vertical for frequencies from 30 MHz down to 14.000 MHz, just by adjusting the length of the antenna. Of course I also use three radial wires to make a better contact with the Earth. Even the coaxial cable lying on the ground helps with this.

For frequencies below 14 MHz the 1/4-wave antenna needs to be a lot longer, for example, about 21 metres high for 3.5 MHz. That is not possible with this type of portable antenna.

Over-simplified:
An antenna behaves resistively at resonance. If it is too long then it becomes inductive.
If the antenna is too short (my problem) then it behaves capacitively, so I use a tapping of the coil to add inductive reactance, which cancels out the capacitive reactance.
In this way I can get the 5 metre long antenna to resonate at 3.500 MHz and still only be 5 metres tall.

The complete antenna is less than 1 metre long, including the coil, so I can (gently) chuck it in the boot of the car with the radio and batteries.

At 3.5 MHz the antenna is only perhaps 25% as efficient as a full 1/4-wave ground-plane, but that is only 1 S-point on the receivers signal-strength meter. Most people give me a 5-7, 5-8 or 5-9 with my 25 Watts of SSB. It only means they will give me a 5-6 to 5-8 instead. But on the HF bands you hear people or you don't. Most conversations can easily tolerate 50% more noise.

One thing I have found is that if I use less than 10 Watts and call "QRP" then people try a bit harder to hear me, or give me priority over the "big boys".

To answer your question:
Yes. It is still good for long distance communications. In general, frequencies are not very good at night above about 10 MHz, so a 14 MHz lower frequency restriction means no contacts at all, just flat batteries. With this coil I can use lower frequencies and make use of the D-layer. Lot lower, so the distances tend to be shorter. But I have made Germany, Ukraine and UK on 7 MHz. If the conditions are good then much greater distances are quite possible.

Very best regards from Harry - SM0VPO

_________________
They say that money cannot buy you happiness. But if you want to prove this by experiment, then I volunteer to be the test-rabbit :-)

Admin




Posts

: 761


Join date

: 2012-11-24


Age

: 67


Location

: Märsta, Sweden



hi ,
looks like a sort of transformer . Is that good to cover long distances ?



Posts

: 134


Join date

: 2017-12-19



Hi All,
Earlier this year I had a QSO with M0DAD on 20m, and he was using an MFJ1979 telescopic whip antenna. He was operating from a shopping trolley and pushing up to 300 Watts! On his recommendation I bought the MFJ1979 and I operate almost daily from my job, in a field, outside <Locator: JO89WN64KW  (map, sat, terrain)>
https://www.google.se/maps/@59.5621199,17.8865096,147m/data=!3m1!1e3
I have a couple of 12 A/H VRLA batteries to power my FT-101ZD. Everything works great :-)  
The MFJ1979 antenna I put through two holes in a wooden box for vertical support at ground level. The wooden box is the same box I pack the radio in.
The basic problem is that the antenna works fine for 14 MHz to 28 MHz, but below 14 MHz I really need an ATU. But you know me, I HATE the ATU. It adds an error equal and opposite to the antenna error.
Instead of digging deep into my pocket, I wound a coil of wire that I placed in series with the MFJ1979. My coil is solid aluminium wire, 4mm Diameter. The coil diameter is 1 cm spacing, 10 cm diameter and 50 turns, all supported on (3D printed) plastic formers, with the MFJ1979 up the middle of the coil. My coax to the radio is about 8 metres long and lies on the ground. I also have three 5 metre radials lying on the soil as the ground return.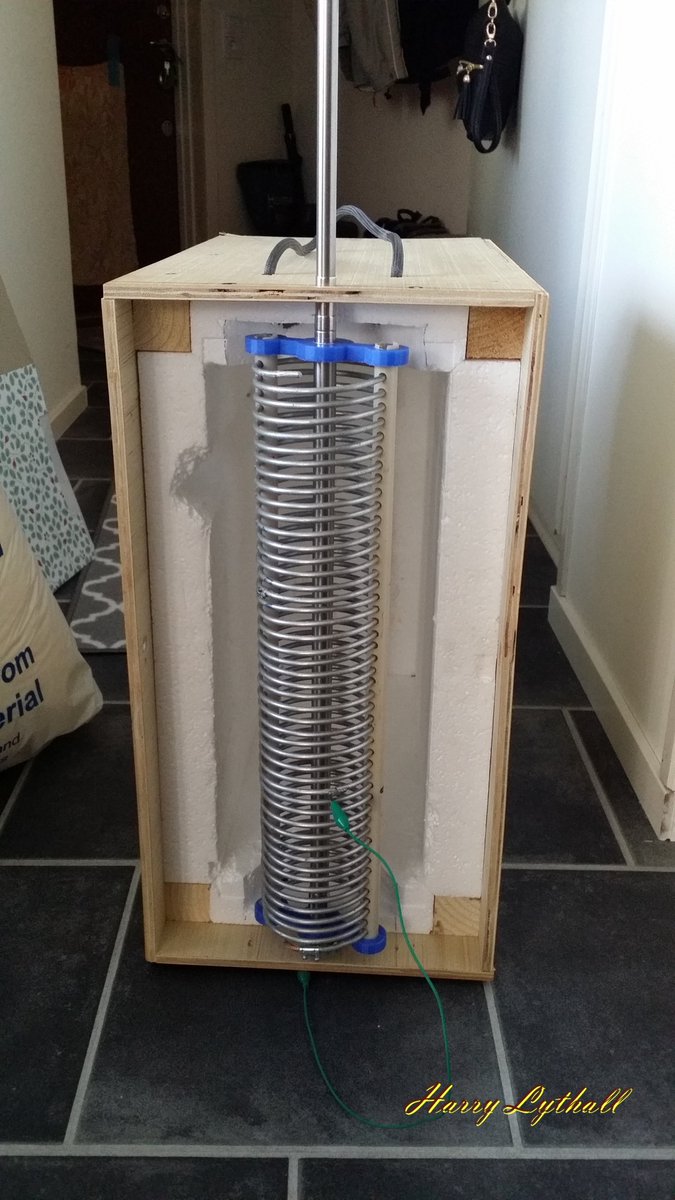 Tapping 47 turns gives me a near perfect VSWR at 3.6 MHz (about 1.05 : 1). 7 MHz is almost as good, but 10 MHz needs a bit more trial/error to get the correct tapping. But since I am not interested in 10 MHz (yet) then I can ignore this band. Coil connected to the base of the telescopic whip.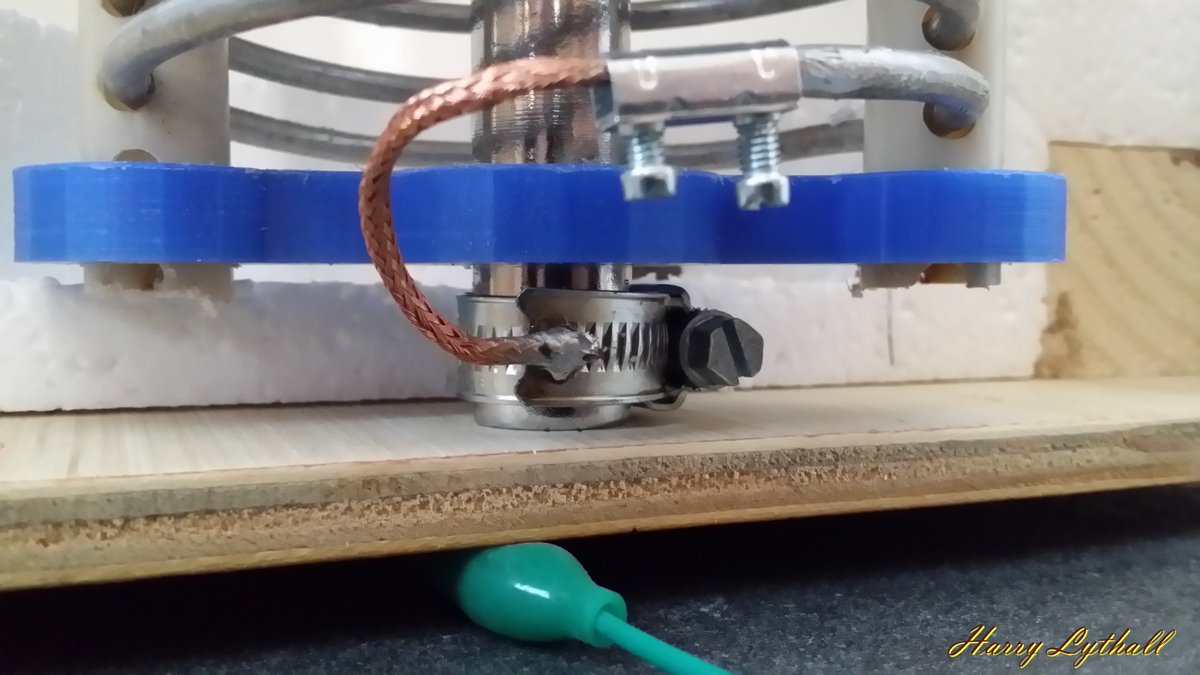 The coil seems to have affected the MFJ a little as I now need to have 2-turns on the coil at 14 MHz to get a near perfect VSWR.
Naturally I will add this to HHH shortly, but at the moment I am crippled up with a stinking cold: concentration is a bit weak. But I just thought I could share some preliminary data with you all. 1 : 1 from 3.5 MHz to 30 MHz, and everything fits in the boot of a small Nissan Juke :-)
That's what I call /P operating.
This coming week I hope to be in 14.100 MHz (+/- 50kHz) from Tuesday onwards, but this time I will try a little 5-Watt DDS rig.
Best regards to all from Harry - SM0VPO

_________________
They say that money cannot buy you happiness. But if you want to prove this by experiment, then I volunteer to be the test-rabbit :-)

Admin




Posts

: 761


Join date

: 2012-11-24


Age

: 67


Location

: Märsta, Sweden




---
Permissions in this forum:
You
can
reply to topics in this forum