Yes it is posible!! but need some modification in op-amp!! and if you want an output wattage of 200watts you need 4pcs 2n3055!!



Posts

: 12


Join date

: 2013-10-26



would it be possible to use 2n3055 's in parallel instead of using IRFP260?? the inverter that i have made so far puts out 150vAC and 10amps yay =D
HI thanks for reply 

the harry inverter that i built was the one on youtube.

the output i need is 2400 watt 

again TY =D
What voltage you are using to the harry's inverter?
are you using this inverter?
http://www.sm0vpo.com/power/invert1_00.htm
if you using that inverter to 12volt i think i wont deliver the full wattage you are design!!
i was built his DC-AC inverter 2 years ago but my inverter does not work for 12volt battery to the flourecent lamp and colored tv, but it work to bulb.
so i was modified his diagram to work with 12 volt battery
here is the modifed diagram: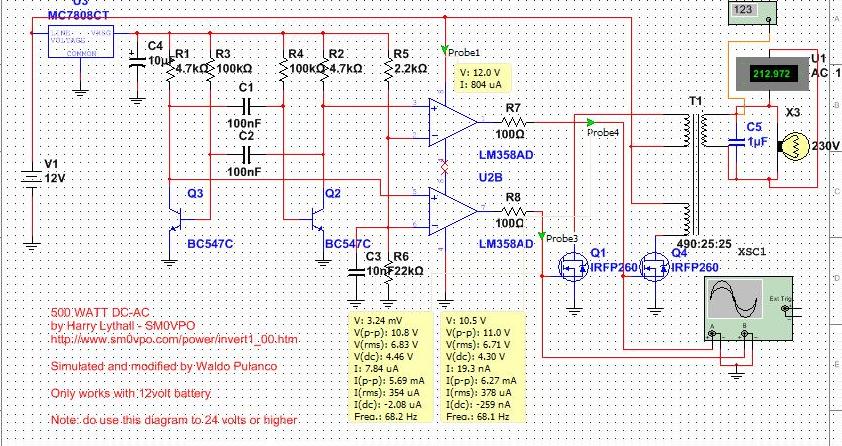 as you can see i have change the 12volt regulator to 8volt regulator to make the multivibrator is stable if the voltage was down to 11volt! and you will notice i have change the + supply for LM358 Directly to +12volt
Note: do not use this diagram to 24 volt and above, you may damage the LM358 Op-Amp!



Posts

: 12


Join date

: 2013-10-26



i have also built Harry's  multi vibrator but it doesnt seem to work =(  im powering one single 150watt flood light but no noise from transistor's but they are getting hot

---
Permissions in this forum:
You
can
reply to topics in this forum