Ok Jim,
I can tell you that the VHF coils (L2, L3, T2 & T3) were about 6mm Dia. self supporting, and the wire gauge was about 0.5mm Dia. L1 was just "thin" wire robbed from a relay. The 10.7MHz IF can was ready wound.

BR Harry

_________________
They say that money cannot buy you happiness. But if you want to prove this by experiment, then I volunteer to be the test-rabbit :-)

Thanks for the zener diode info.  I saw the box with the coil turns, but I need to know the coil diameter, coil length, and wire size in order to wind the coils. If you don't have this info, then I will calculate the inductance from the given capacitor values, and then use an inductance calculator to determine the missing info.

Thanks,  Jim
If you look at the drawing: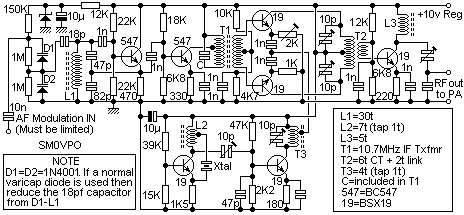 You will see that to the right of T3 there is a little box (above here) where the coil details are given.
The zener diode I forgot to include but that is only about 5.6v, 6.8v or so. I had a lot of 6.8v zeners at the time, but I always prefered 5.6 because that value has a +/-0 degrees temperature coefficient.
Very best regards from Harry - SM0VPO

_________________
They say that money cannot buy you happiness. But if you want to prove this by experiment, then I volunteer to be the test-rabbit :-)

For the Easy 2m TX, it would be helpful to have winding details for L1, L2, and L3.  Also for T1, T2, and T3.  Coil diameter and wire size, (and perhaps inductance, if known). Also the voltage of the zener diode which regulates the voltage for D1 and D2 and the 150k resistor.

I can determine these things myself, but it would save time if you can supply this information, if you have it available.

Thanks,  Jim

---
Permissions in this forum:
You
can
reply to topics in this forum