Hi Harry,
before GPS started, hyperbolic navigation VLF systems like Omega were in use. Omega worked in the 10 - 25 kHz band. VLF radio was also used by electromechanical transmitters (e.g. SAQ in Grimeton) and for underwater communication with submarines. So you could receive lots of signals in that band!

BTW the official radio spectrum begins at 10 kHz, so smaller frequencies are free in fact. And we have the 136 kHz (2200 m) ham band. It may be an interesting field for experiments, but making a dipole more than 1 km long would be a real challenge!

Converting acoustic waves into electric signals and vice versa is a challenge, too. Most mikes have their limit around 10 - 20 kHz. Condenser (electret) and piezo types may be promising, though, especially if some frequency compensation is used in the amplifier. And there are piezo transducers for distance sonars on the market, but they seem to be relatively narrow band at 40 kHz.

I mainly cured my backbone during Xmas. Not very interesting, but much better than one year ago!

VBR from Ivan

Ivan




Posts

: 351


Join date

: 2012-11-25


Age

: 60


Location

: Praha, Czechia



Ok Ivan,
To be honest I have not really done any research on microphones, but perhaps it is about time.
Thank you very much for the links. I shall look at those with great interest.
I am sure there must be some sort of microphone that will cover rather high frequencies, and it could be a good subject.

I once took a 50m (ish) roll of 10-pair telephone cable and connected the ends to make a 21-turn magnetic pickup loop of wire. This I nailed to trees in the garden when we had the old house in the country. I recorded for 24-hours at a time and watched the results from 20Hz to 37kHz. God knows what the neighbours though, with me going from tree-to-tree with a ladder.

I was able to record some "whistlers", but there was also a very strange HF noise certain times of the night. I assumed it was some VLF radiation from Arlanda airport. The noise was quite wide-band, and when I converted it down to audible sound it was very much like a hiss-filtered tone.

But it will be interesting to record night-sounds.

Anyway, I hope that you and everyone else reading this has had a very merry Christmas. Did you do anything interesting?

BR Harry

_________________
They say that money cannot buy you happiness. But if you want to prove this by experiment, then I volunteer to be the test-rabbit :-)

Hi Harry,
I found the "bats' frequency band" on the web, it should be 14 - 100 kHz. Certain electret mikes work up to 20 kHz or even more, so they may do in some cases. You can use these links for inspiration:
BatSound
BatBox
BatDetector
My ability in bird imitation is worse than yours. I successfully attracted a turtledove only. Food is probably much better. I placed a feeder with some nuts on my window. Now I can watch lots of tits, blackbirds and also some more rare species.
VBR from Ivan

Ivan




Posts

: 351


Join date

: 2012-11-25


Age

: 60


Location

: Praha, Czechia



Hi Ivan,
Yes, that is exactly what I wanted to do.
A few years ago I was building a small garage for a snow-plough and I heard a deep gutteral "Gunkkk" sound, so I tried to imitate it, just me being a bit childish. It got louder as I imitated it, then after about 10 minutes a blooming great moose came out of the forest and stood there looking at me.
In Spain we have many birds and animals and one fairly rare bird is the Hoopoe:
It did not respond to me trying to imitate it, but I recorded the sounds using a 750mm Dia parabolic reflector and my mobile phone sound recorder. Then it came to investigate it's own calls and I got some fantastic close photos. I also attracted several other birds using the same technique. I am interested in night-photography so I wondered if I could record bats and then capture them with a decent flash. We have a lot of evening birds, such as swifts but they are not as curious.
It is one of those things I can play with when I am in Spain and am "HF-rig-less". To do it I need some better recording equipment. Saving waveforms in digital format is not a problem, but microphones and speakers are. I would also like to down-convert and listen to what they sound like.
I googles bats and they are indeed mammals. To be a bird they must have feathers.
---------------------
As regards school days, I did loads of tricks. The chemistry teacher once put some small dishes on his bench with chemicals for us to analyze after the break. He made the mistake of preparing them, then leaving them unattended before the lesson. The "taste test" enabled me to identify most of them, so I took away the sodium chloride, replaced it with a pile of ammonium dichromate, then sprinkled a thin layer of salt back over it to hide the orange dichromate. I figured common household salt would be his demo.
Sure enough, he started with the flame test, looking for the flash of yellow as he burned a few granules in a clear blue flame. But when he stuch the glowing silica rod into the pile it began to burn. Have you ever seen ammonium dichromate burn? This is what happened:
https://www.youtube.com/watch?v=Ula2NWi3Q34
Today kids are really limited. In those days the teachers would give you a gym-shoe thwack on the arse, but today they are not allowed to control kids. Instead they take diciplinary action, often involving police, and kids can have a criminal record before they even leave school. My ammonium idodide trick would have almost certainly have involved the police if it were to happen today, especially as the amount I made used about 250g of metallic iodine.
https://www.youtube.com/watch?v=F65FjIDc-Kg
is what happens with just a couple of grams.
You know Ivan, I must have been a real pyromaniac when I was young. I used potassium permanganate and glycerine to make fire, made my own fireworks, and I even made a few rockets. I even managed to liberate a cloud of hydrochloric acid gas by adding sulphuric acid to it. That was the event that finally got me banned from the chemistry labs.
But those were the days. Probably should be keeping silent about some of the things I did.
Best regards from Harry - SM0VPO

_________________
They say that money cannot buy you happiness. But if you want to prove this by experiment, then I volunteer to be the test-rabbit :-)

Hi Harry,
there used to be fun at school from time to time.

IMHO bats are mammals. I see, you want to record ultrasonic echolocation signals they produce. Human ear cannot hear most of them.
VBR from Ivan

Ivan




Posts

: 351


Join date

: 2012-11-25


Age

: 60


Location

: Praha, Czechia



Hi Ivan,
Interesting with the languages :-) I used to disturb teachers when I was at school, mainly by using their own teachings against them.
For example, I once asked our English Language teacher a question something, and he gave me a reply. He then added "is that explanation ok with you?" I replied "Yes, I am
gruntled
".
Gruntled does not exist, but disgruntled means not very happy with something. One cannot say "I am
not dis
gruntled" due to the gramatic rule of using a "double-negative", which the same teacher forbade.
Our religious education teacher hated me. I read the bible from cover to cover and made notes. On one occasion the pupils were required to select a verse from the bible and read it aloud. I chose Genesis 38, verses 8 to 10 (Onan "spilling his seed"). On two other occasions I chose unsuitable passages and the RI teacher refused to allow me to read from the Bible

I also got banned from the chemistry lab after making Ammonium Iodide (unstable explosive). The teacher had the tube in his hand and asked me what it was. When I told him the contents he visibly turned white and (gently) dropped it out of the 3rd floor window. Blew a small hole in the car park tarmac, but it also badly stained two cars.
I was a little jovial when I wrote "Night-birds, such as bats". But it is bats I want to record. Are bats really birds (without feathers)? or are they flying mammals? Whatever, it will be a fun thing to do.
Best regards from Harry - SM0VPO
Last edited by Admin on Wed Dec 18, 2019 4:08 pm; edited 1 time in total (Reason for editing : it seemed like a good idea at the time.)

_________________
They say that money cannot buy you happiness. But if you want to prove this by experiment, then I volunteer to be the test-rabbit :-)

Hi Harry,
I apologize myself for a bit off-topic. Your sentence "night birds, such as bats" made me laugh and brought me some memories. I imagine owls as night birds, not bats.
To improve our pronounciation of English phrases, we used some similar to those of prof. Higgins. One of them was:"There is a bad bat in my bed."

It was really useful in everyday life!
And the Czech word for a bat is "netopyr". We destroyed our teacher of biology by invention of "brutopyr", which was a bat in packaging.

VBR from Ivan
Last edited by Ivan on Thu Dec 12, 2019 7:47 pm; edited 1 time in total (Reason for editing : typo)

Ivan




Posts

: 351


Join date

: 2012-11-25


Age

: 60


Location

: Praha, Czechia



Thank you Ruud.
My father was a real Yorkshire alcoholic carpenter, and it was difficult for him to accept that I had abilities he didn't have. I can still see his face when I refused to touch the radio. He was livid!

Ok, hope all is well with you?

As a matter of interest, have you done much work with audio up to about 60kHz? Can ordinary "bog-standard" Electret microphones go up there?
I am asking because I want to record the complete audio spectrum from about 50Hz to 60kHz, for recording birds, including night birds, such as bats. I just wondered if I need to have several microphones mixed, or if it would be easy to have just one unit do the job.

BR Harry

_________________
They say that money cannot buy you happiness. But if you want to prove this by experiment, then I volunteer to be the test-rabbit :-)

I was dragged up in Rotherham, south Yorkshire. It is a lovely place, people are running in and out of each other houses with each others property all day long.
Dad goes to the pub, or gets the lodger to walk the 3km carrying four 1.5 l cider bottles and have them filled with ale.
If you have seen the films "Brassed Off" or Monty Python's "Meaning of Life" (see the black-stone street view in the song "Every Sperm is Sacred").
We used to go to Cleethorpes for our holidays, and my dad always went to the pub twice every day on holidays. After a couple of beers, one gets more courage and knowledgeable about things 

No-matter what I did, my dad knew better, could do better. He told the people in the neighbouring caravan that he "knew about radio". They were having problems with a Dansette 222 MW portable radio. It was new on the market about a year before. He said "
I can (hic!) tune it in for you
".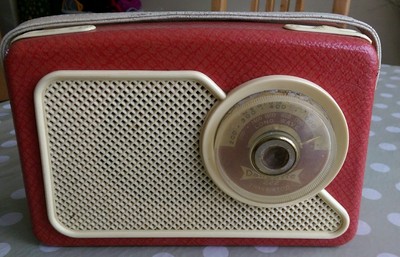 Armed with only steel instrument screwdrivers and a pint of beer, he began to retune the radio. Every time he adjusted something it became quieter, until eventually there was only a gently "hisssss" when you put your ear against the speaker. He was retuning for about 1/2 a day, but the radio was totally silent.
Then he told me that I had got to help him, and get it to receive "
at least one station
". I was about 11 years old at the time (1962). I knew the superhet principle, and I was shown alignment using an AVO signal generator, by a radio amateur. No voltmeter to measure the AGC voltage, nada! Besides that, he had broken all the ferrites in the IF cans. So I declined.
I had a cheap transistor radio and he knew that I had re-tuned the MW (550kHz to 1.65MHz) radio to cover 750kHz to 2.2MHz so I could listen to the "Trawler band".
My father had to buy the neighbour a brand-new new radio (from Woolworths in Cleethorps) because "
my know-it-all son had played with it and broken all the trimmer-thingies
". I can still recall him handing over the radio, just before the pubs opened.
As you get older one tends to remember these sort of incidents when you reflect back on your life. At the time I was not so happy about it, my dad was livid. But today I think it is quite funny. I hope you can get a good chuckle from it.
BR Harry - SM0VPO

_________________
They say that money cannot buy you happiness. But if you want to prove this by experiment, then I volunteer to be the test-rabbit :-)


---
Permissions in this forum:
You
can
reply to topics in this forum